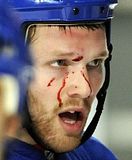 Sjostrom spent this past season with the coyotes where he played 51 games tallying 10 goals and 9 assists and a -2 rating before being traded at the deadline to new york where in 18 games he had 2 goals and 0 assists and an even +/- rating. When the Rangers announced the signing of Fredrik Sjostrom to a one year deal and 840k, most rangers fans were able to breathe easy. Not only did it mean we actually got to keep something from the pheonix trade (Leneveu signed with the Anaheim organization, Gratton Signed with Nashville) that saw us give up Marcel Hossa and top goalie prospect Al Montoya, but it also gave Ranger fans a look at what our roster would look like. It also might mean another year in Hartford for Lauri Korpikoski. Although I'm not Tom Renney, using the roster we have now, i think we have some lines to put together
Zherdev-Gomez-Naslund
Dawes-Drury-Prucha
Callahan-Dubinsky-Fritsche
Sjostrom-Betts-Rissmiller
Redden-Staal
Girardi-Rozsival
Mara-Kalinin
ok fine, ill explain
The 1st line gives speed with zherdev and gomez, and naslund still has the ability to finish, his numbers suffered in vancouver playing in a defensive (or offensively challenged) system that stressed the belief that not shooting the puck would equal goals. Hopefully coming to a team that is a bit more open will help him get back to the 30 goal mark.
The 2nd line would be a fun line to watch. Prucha gets his ice time back, where he can go back and score atleast 20, and his first two seasons definetly show he is capable of it. A fast start for him would be huge and Dawes and Drury are the kind of linemates who can do that. two guys who we know have offensive talent, who can both skate and make things happen.
The 3rd Line provides some real good energy. Dubinsky plalyed on the 1st Line with Jagr last year, but i dont think anyone would say he is a 1st line center, atleast not on this team. Him on a line with fritsche and callahan will be able to chip in some good offense. It would be a gritty line, and fritsche and dubinsky are both ready and willing to drop the gloves if necessary
The 4th line would definetly be an upgrade over last years 4th line. Rissmiller is like Betts (yes, my favorite player) with more offensive ability. Him and Rismiller are two very good Pkers, and those 3 together should see some solid ice time, and be able to chip in on offense more then Ryan Hollweg (the anchor that dragged that line down and stopped them) could.
The 1st pair of Redden and Staal would be a defensive force for the rangers. I think the ranger fans hope that staal can become a better version of Redden. So who better to learn from then Redden himseld. Staal has shown he has offensive potential, but like most rookie defenseman, he seemed more focused on making sure he was defensively responsible. He has shown that he has a very good shot, that hopefully he uses more this year.
The 2nd pair of Rozsival and Girardi has the ability to be a very good 2-way defensive pair. both guys have real good offensive ability, and Rozsival's defensive game should definetly improve with a more responsible defensive partner this year with Girardi
The 3rd pair has some guys that are both battling for a contract. Mara and Kalinin are both solid defenseman who can both shoot the puck a little bit. Mara might get some PP time aswell. he has a good shot and he has shown he really wants to play and win here. He is the heart and soul, team first kind of guy who is willing to do what it takes. We'll see with Kalinin.
In other news, ex rangers foward Petr Nedved has been invited to camp on a tryout deal. Nedved, who registered 20 goals in 42 games with HC Sparta Praha of the Czech ExtraLiga has said that he turned down offers from other european teams because he wanted to come and play for the rangers, with whom he played for in the 1994-95 season, and from the 98-99 season through the 2003-04 season. Many felt his NHL career was over when in his last 2 seasons (05-06 and 06-07) he played in just 93 games with just 9 goals and 28 assists and a -39 rating. Nedved though, feels that he can contribute in the NHL again. "I'm no fool, I know I'm not going to crash the first line, or even play a few minutes on the fourth line -- but I could be on the third line." said Nedved.
It might be pretty hard for him to earn a spot, considering we already have our roster set (atleast according to me). It just seems hard for him to find a place. Who exactly would you bump off the roster to let Petr in. Rissmiller? Callahan? Fritsche? I apologize Petr, but Callahan>Fritsche>Rissmiller>Nedved. I understand Petr wants to be in the NHL again, but its time for him to move on, because he will not earn a roster spot, atleast not with the rangers. I wish Nedved luck in getting a job in the NHL, just not with the Rangers.
AROUND THE NHL
The Detroit Red wings have signed RFA Valterri Filppula the a 5 year 15 million dollar deal, an average of 3 million per season. Jeff Finger gets 3.5 per and Filppula gets 3 per? In a few years, many will look at this deal and wonder why he is making so little. Filppula scored 19 goals and 17 assists and registered a +16 rating in 78 regular season games. He also scored 5 goals and 6 assists with a +7 rating in 22 playoff games en route to a stanley cup.
The Columbus Blue Jackets have signed goalie Pascal Leclaire to a 3 year, 11.4 million dollar deal, averaging at 3.8 per year. Leclaire posted a 24-17-6 record with a 2.25 GAA and a .919 Save percentage and a team record 9 shutouts.