All season long, assistant coach, and power play coach, Perry Pearn was bashed for the failure of the Rangers to convert on the power play. While many people wanted him gone, it only seems fitting that he run in, I mean, look at his initials. PP, Perry Pearn. Get it? Anyway, this year might be a make or break year for Perry, who needs to get the power play running if the rangers want to win a cup. Its no coincidence that Detroit and Pittsburgh, the two conference champs, were both ranked among the top 5 in the power play. The Rangers on the other hand, were 22nd. With the players that have left this offseason, one might think that the power play is doomed. While yes, it is impossible to replace the overall talent that you lose with the departures of Jaromir Jagr, Martin Straka, and what will likely be Brendan Shanahan, the team is not doomed. While this might seem like it is to much to overcome, the Rangers PP, and Perry Pearn's job, can still be saved.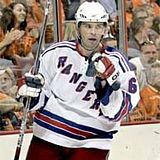 Jaromir Jagr was the go to guy on the Rangers PP. There wasnt a set play that wouldn't be run through jagr. As bad as that may be, it also can be a good thing. To lose a player that completely runs everything, and has the talent to do it, is huge. It's key for the rangers this year, to have someone else to run the plays through. A lot of people bashed the Rangers power play, and the players on it, for cycling everything through Jagr. The problem wasn't that he was starting the play, but that he was also expected to finish it. Rozsival in particular, wouldn't shoot(and its a shame because he has a good shot) because he felt that Jagr should always get the puck. He still somehow managed 13 goals last year. Now imagine him running things from the point, or getting set up instead of feeding it to Jaromir like he always would. He has the ability, along with Wade Redden, to QB a power play that has the talent(just like last year) to be among the best in the league. With Redden and Rozsival on the same point, it will keep the opponents PK on their toes. You might look at my analysis of the PK and say, "why would you balance the PK with Betts and Rissmiller on different lines, but put Rozsival and Redden on the same unit?" Well, the Answer is simple. We dont want the PP to last the full two minutes. The PK on the other hand, has to. If we can score early in the PP, we wont have to use anyone else, and we'd keep our lines fresh. In the likely event that most of the time, it will make it to the second unit, I (or hopefully, Tom Renney)have full confidence that any of our defenseman can play the PP. Dan Girardi scored 10 goals last year, 5 of which came on the power play. Staal has shown he knows how to shoot the puck, and should asume more offensive responsibility this season. Paul Mara has a very underrated shot.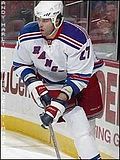 It's a heavy shot that finds the net. He only scored one goal this past season, but with some time on the power play, those numbers could go up. He also had 16 assists, 6 of which came on the power play. He might not score many goals with the increased power play time, but he is capable of setting up his teammates. Dmitri Kalinin is also capable of scoring. He didnt play much on 07-08, but in seasons before that, he was a very good offensive defenseman, tallying 19 goals and 62 assists in the 3 previous seasons.
Of course, it's not only the pointmen who make a PP. Most of the time, it's the fowards that make or break the man advantage. A good center, like Scott Gomez, is key.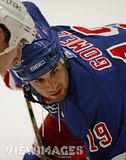 With the departure of Jagr to Omsk, this team has to be carried by someone. The Jagr era is over, and it's time for the Scott Gomez era to begin. While he probobly will not be named captain, he is the guy to lead this team towards a brighter future. He is our marquee player, and what i suspect will be our top line center. With that responsibility, he will also be the puck carrier for the power play. He is one of the best playmaking center's in the league, and he will need to keep that up to keep this team going. He has the ability to set up anyone on the ice. He's a very fast, and smooth skater who will make his teammates better, and if he really needs to, he'll score aswell. He played very well in the playoffs, and his expirience and his skill are vital to this teams cup chances.
The other center, the highly paid Chris Drury, is also key. Most people saw him as a bad signing, and thought we overpaid for him. Overpayment is a theme in this new NHL to the point where being overpaid isnt even being overpaid anymore. Drury didn't produce as much as many hoped, but i wouldn't call it a failure. He still has the ability to change games, and he has earned his nickname, Cpt. Clutch. While people were complaining about the signing, Drury still put up an impressive 25 goals and 33 assists. His hockey smarts, along with his leadership qualities could put him in charge of the second unit.
So far, we have lost some key wingers. Jagr, Straka, Shanahan, and Avery(the screen he put on broduer is illegal now, but I'd love him in front of the net every game)are all gone, but there is always a bright side to things. Petr Prucha lost almost all of his ice time last year. He found himself in a slump that he couldnt get out of, and would not see any more time back on the power play. But a new season brings a fresh new start for the young foward, who scored 52 goals in his first 2 seasons. With some more ice time, and hopefully a fast start, Prucha's confidence will soar and he could again, become one of our best fowards.
With the addition of Nikolai Zherdev and Markus Naslund, we are sure to see some new faces on the power play. But I wont keep you in suspense. Instead of breaking down every player, I'll give you my predictions for the lines that Tom Renney will use.
PP#1
Prucha-Gomez-Zherdev
Rozsival-Redden
That unit can be gold for the Rangers. There is some great power coming from the point with 2 very good offensive defenseman. Gomez is our top center, and he should be there, setting up 2 talented goal scorers. Prucha didnt do much last year, but it wasnt long ago that after 22 goals we were all disapointed, so we know that there is talent there. Playing with some actual ice time will help Prucha(who only makes 1.6mil per year) get back to his old self. Zherdev is a very talented goal scorer who can also set up his teammates. Hopefully a new start in New York City will motivate him more then Ohio could.
PP#2
Naslund-Drury-Dawes
Girardi-Mara/Staal
I list three defenseman here, because I think both Mara and Staal are capable of playing on the power play. Both have shown some pretty good shots, and Girardi has shown some great offsensive potential. Even when Girardi was called up for the first time in the middle of the 06-07 season, he showed potential was there, even without scoring a goal. He is confident with the puck, will shoot, and he will get the puck on net. It's not the best shot ever, but its accurate, and a lot can happen from the point if you just get the puck to the net. At foward, there are some good finishers. At the start of the season, he didnt even make the team, but everyone knew it was only a matter of time before Nigel Dawes was called up. He was seen as a pure goal scorer, but he has shown the talent to put up assists, and has made some very good plays to set up his linemates. He's another year older, and more confident then ever. Expect a big year, with some power play time for Nigel Dawes. With Drury, as I mentioned before, you have the clutch goal. Late in the game, down by one and on the power play, I can't think of many other players that you'd want on the ice. Naslund is also a very good finisher. He put up 25 goals in vancouver, were the offensive strategy calls for players to never shoot the puck. Playing in a more open system should give Naslund some real good numbers this year.
AROUND THE NHL UPDATE:
TSN reports that the San Jose Sharks have re-signed foward Ryan Clowe to a one year, $1.6 million deal. Clowe played just 15 games this season because of a knee injury. He posted 3 goals and 5 assists. In the playoffs, he added 5 goals and 4 assists. If Ryan stays healthy, this can be a bargain of a signing. Clowe has tons of potential, and he would be making more right now had he not been hurt.
Thank you very much for reading my analysis of the Rangers special teams. Leave your comments and stay tuned for more posts. Be sure to check out the links in my sidebar as well.