One positive note from last season was the team's penalty kill. Best PK% in the eastern conference, and 6th in the league overall, the rangers PK was one of their strengths. That was, untill the second round of the playoffs, against the Pittsburgh Penguins. Key goals were scored on the power play for the penguins, and was a major part in the Rangers early exit, in just 5 games. Their PK, at just 79.2%, somehow was ranked 9th out of the 16 playoff teams. This year, the Rangers will look to improve their PK, and become more consistent. While Straka and Shanahan both were playing on the PK at one point(it was Straka who got hurt after blocking 2 shots from Chara when Henrik Lundqvist robbed Savard), players like Gomez and Drury started to be seen more on the PK. That wont last for long though. While those players did well on the PK, its not their job, and they need to be saved for the PP and 5 on 5. I can see Drury staying on the PK, but Gomez should only be killing penalties in extreme circumstances. Instead, the PK will again be headlined by the amazing PK ability of Blair Betts.
He is a center who will throw himself in from of shots, and isnt afraid of what will happen when he does. He's pretty good on faceoffs and he does his job well. Expect him to be kept around for a while (Tom Renney coached him world juniors oh so long ago)and remain a fixture on the PK. The addition of Rissmiller will not only add a little bit of offense to the 4th line, but will also give the team another good PKer.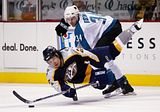 That leaves 2 more regular spots for fowards. I would imagine that players like Sjostrom, Callahan, Dubinsky or Fritsche would all be considered for ice time. That leaves 2 questions that need to be answered. First, would you play Betts and Rissmiller on the same unit, or split them up? Second, which defenseman will play on the PK? The first answer should be a simple one, and it is to split up Betts and Rissmiller. Yes, that would be one very good PK unit if they were together, but it would also leave some holes in the second unit. I'd rather have a lot more balanced PK, and with them split up, it would guarantee that we have atleast one real good defensive foward on the PK. The second question is a bit more complex. There are 4 spots for defenseman on the 2 PK units and it's hard to find 2 players to leave off. Staal and Girardi might be guaranteed spots on the PK, but can Redden play well enough defensively, or is he going to strictly be an offensive, puck moving guy? Can Rozsival go back to his old form, and be more responsible defensively? Can Mara earn a spot on any special teams unit, let alone the PK? Will Kalinin rebound after his bad year last year? We'll get our answers when the season starts. But since thats going to take a while, I better start making predictions about the lineup.
PK#1
Betts-Fritsche
Staal-Girardi
This unit gives some good defensive play all around, and those fowards might be able to chip in a shorthanded goal or two this year. look for a unit like this to be conservative, but still forecheck and possibly chip a couple of goals in. Staal and Girardi are both very capable of keeping players away from the net, and are both positionally sound, and they have already shown they can play in those kind of situations. Staal knows how to be in the right spot to make the right play, and Girardi has been a big suprise and has been very impressive, especially for an undrafted free agent signing.
PK#1
Rissmiller-Callahan
Rozsival-Redden
This unit might be a bit more aggressive. Callahan is a good forechecker, and we saw him score a shorthanded goal in the playoffs last year. With Rissmiller, they will definetly be able to rush up, and forecheck a bit, without risking a lot. Both players are responsible defensively and wouldnt join the rush unless they knew it was appropriate. Rozsival wasnt as good defensively last year, but we have seen what he's capable of. A new year and a new contract might get him back to his old form.
Thank you for reading my breakdown of the special teams, an look out for part 2, when i will deal with the Power Play. Leave your comments, and feedback is very appreciated.